When I open the new magazine, a lot of leaflets fall out. One is called Caring Solutions – 'mobility aids to independent living'.  One solution sends me into an instant decline.  It's not the walk-in bath, the model in a hideous swimsuit like a corset, or the riser-recliner chair or even the scooter which 'carries up to 30 stone.'  It's the stairlift.
Installing one must make sense for some – and cheaper than moving to a bungalow. After all, Henry VIII had a Tudor version of one, when he got too big to manage the stairs, but even so…a stairlift!   The utter opposite of Everest.
It's tempting fate –  but think I'd rather crawl upstairs on my hands and knees, step by step, than use one –  like you do when you first learn how to go up and down one of the earliest of obstacles, all by yourself, till you reach the top!  Then you do it, again and again and never even think about it, till time becomes a mountain.
Amiens, France, July 2017
It's a very hot day and the cathedral tower has over 300 steps.  Hesitate, but so love a View…….and when the steps finally run out, so high above the city, above everything around, the buttresses fly beneath the parapet and the gargoyles look like the gutters they are, wonderfully ugly.  Feel quite exalted –  but then I've seen a lot of angels and virgins this month, ascending to heaven above billowing clouds in religious paintings and it may have gone to my head.
Back home, go up the stairs. For a former flat-dweller, having my own stairs to go up is still a novelty.   Only 14 treads, with 2 mini-landings, a shallow affair. A very poor relation to one of those great vertical distances –  a grand, sweeping staircase, worth falling or being pushed down, to lie in a graceful, broken heap at the bottom. Or one to descend in a Downton-style ballgown, pale hand resting on a baroque banister…
This romantic train of thought chugs on for a while till it reaches the ruin of a house on a hill, seen from a road in Ireland, on a holiday there. The front had gone. There were no ceilings, doors or windows. The roof was open to the sky.  From what remained of a floor hung a complete set of stairs, barely attached to half a wall, connecting nothing with nothing.
This scene gives way to a country house in England. A day-trip and a below-stairs tour. The stairway in the servants' quarters, the guide tells us, was very modern for the 1900s. Made of rubber, to muffle the disagreeable sounds made by all the fetching and carrying…..It can't have worked:  all that potential for spilling and dropping, what with the silver plates, jugs of hot water, scuttles of coal…
Enough, already!   But the line of thought is close to its destination. It begins to turn in on itself and take a track back, to France.  It stops at a door in the old Jewish quartier of Paris: the Marais, where I shared a flat with other girls, on the third or fourth floor. There was a felaffel house on the corner of the street, a Turkish baths not far away.  It was my au-pair-Berlitz-teacher period.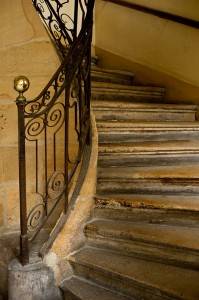 No.7, rue des Rosiers,  1967
A flight of stairs led from the top of our building to the street  – narrow, but well-swept and made of wood.  I went up and down those stairs, day after day for year,  past scratches and smudges on the dark green walls above the handrail. There were also small patches where the paint had been scraped away.
An elderly resident told me the marks dated from 1942, when the Jews were deported from the district and a family was forced to leave their apartment in the building. She couldn't remember their names – or which apartment – she wasn't there when it happened – and it was all so long ago.
No 7 still stands, so the marks will remain. Painted over, perhaps, but there. The apartment they left will always be theirs. When they were dragged out of their beloved home, past their neighbours' doors, tightly shut, their hands clutched at the very walls of the stairwell, anything to delay departure. Or maybe it wasn't like that at all.
When the moment came, the family departed in dignity and silence. It was their resistance. It was the metal corners of their suitcases that scraped against the paint, a child's toy that was run along the rail, leaving a long faint line.  They went down the stairs for the last time – – –  who knows what pictures rising in their minds – – – step by step, stars on their coats, into the night.